A Complete Review of Innovative HP ChromeBook 14
|
The latest gazette which has caught the eye of the world is the new Chromebook 14 from the world of HP.  They looks similar to other laptops but are packed with some lethal features. It is powered by Google's Chrome Operating System. They work differently to Windows powered laptops. HP has come up with this new Chromebook and two years after Google launched Chromebooks in the US, these sleek machines are available in India. Google Chrome OS is very different from Windows OS. Google believes that windows OS was built for the world which lacked the availability of internet. Google's chrome OS on the other hand provides a lot of power to its users. You will definitely feel at home with this OS.  It is as simple an OS can get. You do not have to install any drivers or patches. You do not even need to partition your internal storage.  You just have to open the Chromebook, connect to the internet through Wi-Fi or a 3G dongle and you are good to go. The basic applications come pre-installed in it. You can add more applications by visiting the Chrome store. The OS gets updated automatically and hence you get to use the latest OS the market has to offer.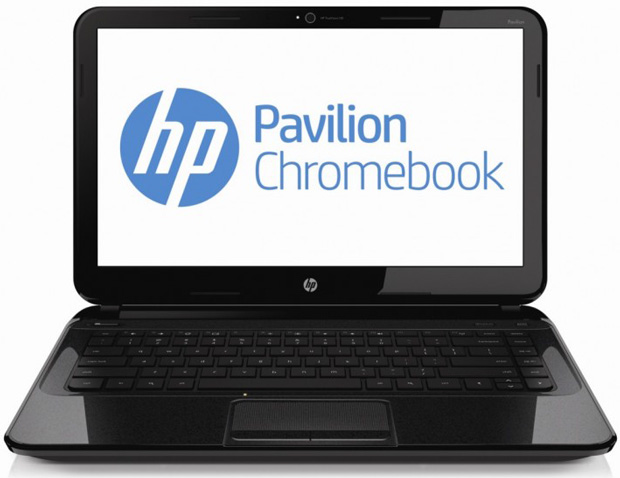 Design
The Chromebook is designed to suite the Royal eyes. The glossy plastic lid and back are uninterrupted by screws, vents or any other components, hence providing it with a rich and classy finish. It is a super-light laptop weighing in around 2.3 pounds and has the dimension 11.69 * 7.56 * 0.69 inches.
Keyboard and Touchpad
The keyboard looks quite decent. The keys are well spaced so that accidentally hitting a wrong button while typing is checked. The track pad on the other hand is not that solid. At least two finger scrolling is required to handle the Chrome OS.
Display and Sound
The new Chromebook 14 has a 14 inch big screen with screen resolution of 1366 * 768 pixels. But the glossy finish of the laptop would distract you to some extent if you are looking at it under the sunlight. Perhaps, an anti-reflecting screen would have made the difference. The speakers on the other hand are loud enough to cover a small room. The sound clarity is maintained and you get to hear the accurate sound even while sitting under the laptop. Sound distortion is a rare phenomenon.
Performance and Battery Life
The Chromebook performs better in its new Google Operating System and has a very good battery life. It is capable of performing at a stretch of 9.5 hours.
Connectivity
HP does not sleep on ports. The Chromebook 14 has two USB 2.0 ports, a single USB 3.0 port, HDMI and a full size SD card slot. It also has an inbuilt Wi-Fi and Bluetooth.
Quick specification
The Chromebook comes packed with a lot of features. It has an Intel Celeron 847/1.1 dual core GHz processor, 4 GB in-built RAM, 16 GB in-built hard disk, has a 14 inch display with a maximum resolution of 1366 * 768 pixels and has a built-in Intel HD graphics card.
Advanced features
Majority of the applications in Chrome OS are web apps. This means that as soon as you click on any app, the web page of that opens allowing you to browse through any information you want of that application.
Price
HP Chromebook 14 comes with a price tag of Rs 26990.
Google Chrome's HP Chromebook would be a definite hit among the masses because it promises to deliver high quality stuffs at an affordable price. Hence, the future of the Chromebook is promising.