8 Reasons You Should Be Using A Membrane Keypad
|
A membrane keyboard is a lot more flexible than a traditional keypad. It doesn't have the same hard keys that people are used to pressing on their keyboard day after day. Instead, it is durable, being made from silicone rubber. Many industries use them and you should be using a membrane keypad for 8 different reasons.
Affordability
You should always be looking at cost when you select items for your home or your business. A membrane keypad is more affordable because of the silicone rubber. There are less chances of it breaking, as well, which means you will save money in the long run because of being able to keep it for a longer period of time.
The affordability is based upon how customized you want the keypad. If you are looking at having a keypad created for a particular item of yours, you may spend more simply from the design aspect. If you are simply looking at buying a keypad however, it is one of the most affordable options out there.
Reliability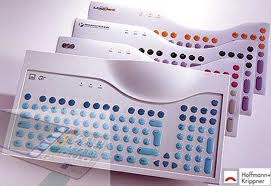 You can count on a membrane keypad time and time again. One of the main reasons for this is because the entire keypad is coated in rubber. It can be rinsed off or wiped off in order to clean it. Crumbs and dirt won't get stuck in between the keys. This means you can type until you're fingers are bleeding without it failing you in one way or another.
Weather Resistant
There are going to be times when you need to work outside. If you choose a membrane keypad, you won't have to worry about when it rains or snows. The entire keypad is surrounded with rubber, so there are no electrical wires or anything else exposed that can become damaged.
Color Choices
You may be shocked by the number of colors available in a membrane keypad. Due to the affordability aspect, it has allowed manufacturers to change up the colors to make it easier for everyone to get what they want. You can find a color that you want in order to personalize your keypad a little better.
Temperature Resistant
There may be times where a keypad needs to be used in the kitchen, in a walk-in cooler, or in other hot or cold environments. The standard keypad can't handle these elements, though a membrane keypad can. They are temperature resistant, allowing you to use them wherever you need.
Tactile Experience
By using a membrane keypad, you get a whole new tactile experience. If you have ever used another type of keypad and either weren't sure if you pressed the button or were afraid that you pressed it too many times, it will be different when you use one that has a rubber membrane.
Customizable
It's amazing to see how customizable these keypads are. You can incorporate different colors and symbols into the keypad to have your needs met. If you need a keypad for a particular product that you are designing, you can have a pad that includes virtually anything you want without having to spend a lot of money.
No back-lighting Needed
Many companies focus on spending the money for back-lit keypads to make it easier for people to see in the dark. There's no need to back-light a keypad that has a rubber membrane because you can feel the numbers easier. You also don't have to pay for backlighting because it can be clear rubber, allowing the light to be sourced from elsewhere within the unit.
There are all sorts of reasons why you should be using a membrane keypad. Whether it's the keyboard for your computer or you need a keypad for a particular product of yours, this silicone rubber pad can make it a whole lot easier to maximize the use. It can be used almost anywhere, customized to meet your needs, and a lot more affordable than standard keypads. All you have to do is decide what keypad is going to work best for you so you can begin shopping for the keypad that is the most affordable and from the most reliable source.
Image Source- Optiscout.com