5 Best Antivirus for Android Phones: Smartphone Security Tips
|
Every handset requires proper protection in the form of antivirus and so do android phones as well. Professionals have come out with many antivirus apps that protect the handset from virus attacks. If your android phone is already infected with malware, then too these antivirus applications prove out to be useful. These apps are effective enough to suit your mobile phone software and render you a good experience. Once you install these antivirus apps in your mobile phone, you do not need to bother about the safety anymore. So, if you are looking for some android antivirus software, then here are some few types of software that you can choose from: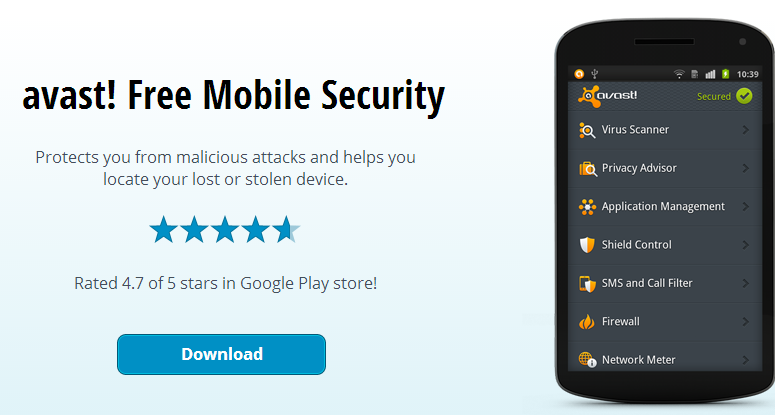 Basically, Avast is a well-known PC antivirus. But now, Avast is available for android phones as well. It offers special features such as remote options, application manager, privacy reports, anti-theft protection and filter for calls and messages. This antivirus software senses and scans each and every application present on the phone as well as the contents of memory card to make sure that no threat is left behind that can cause harm. There are various in-built options such as uninstalling option, scanning option, virus definition updates and reporting tab.
AVG antivirus is among the best antivirus for android phones. It offers various add-on features such as malware protection, backup option, task manager, scanner, and messages filter option. It scans away the apps already installed in your phone and deletes those which are infected with malware. In case, if your handset is stole, this software offers remote data wiping that helps you in locating your lost phone, moreover, the sites you login through the mobile browser are also scanned by the scanner to ensure safe web browsing.
Kaspersky offers a synchronized security against malicious programs, spam, unwanted calls and messages. It shields your device from malwares, spywares and adware.  The privacy feature enables you to control your contacts and conversations. The anti-theft system disables, cleans and figure the lost phone with the help of Google maps. In case, if your sim card has already been disabled, the software still locates your stolen phone. This is the reason that many people opt to choose Kaspersky as they feel protected when it comes to the possession of costly android phones.
Sophos Security & Antivirus
This mobile phone security software provides various services such as data loss prevention, anti-virus, anti-spam, anti-malware, and encryption software and network control. Through this software, you can avoid unwanted software from harming your phone in the form of data loss or virus attack. And if your phone gets lost, this software will protect all your personal information from snooping eyes.
McAfee, an award winning android phone antivirus offers wide-ranging security for your android phone. Features like safe mobile browsing, anti-theft, call filter, message filter and call protection has rendered it a good position among other software. In addition, if required, this software allows you to prepare a backup of your phone and restore the device as you feel like. As soon as you download a file or an application, McAfee automatically scans it so that it does not pose any kind of threat in normal functioning of your handset.
So, protect your android phone against any kind of threat by downloading these antivirus apps on your device. These antiviruses are easy to be installed in handset through android market. Once you download a suitable antivirus, you can blindly download any file or browse web freely without sear of any threat be it malware, virus attack or loss of handset. These apps are not only powerful but hopefully useful as well.