3 Tech Tools to Make Your Club Activities Less Boring
|
With the fast pace of life these days, organizations may find it increasingly difficult to organize actual meet-ups and events. Whether it be a club at school, organizations in the community, or interest groups such as those in sports, hobbies, or recreation, you might find it a challenge to gather strong interest among members to regularly attend meetings and activities.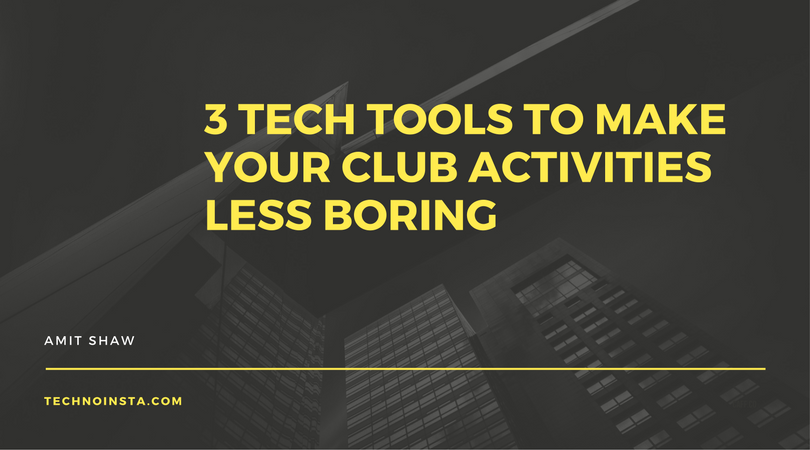 Imagine that our daily life is already usually filled with a lot of work and tasks that compete for time and attention, so the key to keeping active membership and participation is to make your club activities more engaging and exciting. The good news is that there are a lot of wonderful tech tools readily available that you can use to enhance your club activities and make them less boring.
Group communication apps
One of the biggest challenges to overcome in running a club is to keep an open and ready line of communication among members. Aside from just relying on traditional methods like calling or texting on the phone, club members can rely on a group communication app for efficiently keeping in touch with each other.
A group communication app could be considered "all in one" because it combines the functionalities of different means of online communications such as web-based forums, messaging, and social media. It has chat rooms, a calendar for announcing events and activities, and even a poll function to instantly survey group members for matters that require consensus.
The BAND app, for instance, is a pioneer group communication app that is highly rated and used by millions of users worldwide for its easy-to-use interface and a wide number of functionalities. It even has a photo album where groups can store, select and share images with one another easily and in private. Another unique feature is the group search, where club members can look for and interact with other similar interest groups, thus widening their network.
Graphic design templates
Design template websites and services can help a lot in making your club event invites, save-the-date notices, posters, flyers and other collateral materials look sharp and professionally done without actually spending too much time and money. Many of these are even offered free of charge designed to be extremely user-friendly.
You simply choose a design based on a particular element such as color, theme, or occasion, and you just plug in the details of your event such as the date, time, venue, etc. The site then publishes and comes out with your very own ready-to-print file. Since it is an image file, you can also easily send it out through e-mail or the Internet messaging.
One of the most popular design template websites to come up in recent years is Canva. Be sure to check out their massive collection of free design templates. For an additional fee, you can customize your designs and add unique elements like photos and different typefaces.
Social media broadcasting
Live streaming of events and activities on social media sites and apps is a novel way to keep members in touch with each other even if they are not able to physically attend club meetings and activities. It also sometimes allows a club to share their activities with a wider audience or the general public.
Social media broadcasting has become a big trend in recent years especially with the availability of stable, high-speed broadband Internet connection. There are a number of familiar and popular social media apps such as Facebook and Periscope that enable this kind of feature.
Thanks to the wonders of social media, mobile telecommunications, and the Internet, you can easily and more conveniently keep the spirit of camaraderie alive in your club. Take time to explore the many options of technology-based tools to help enhance your group's activities and events.